隐于市 心归宿
HIDDEN IN THE CITY HEART HOME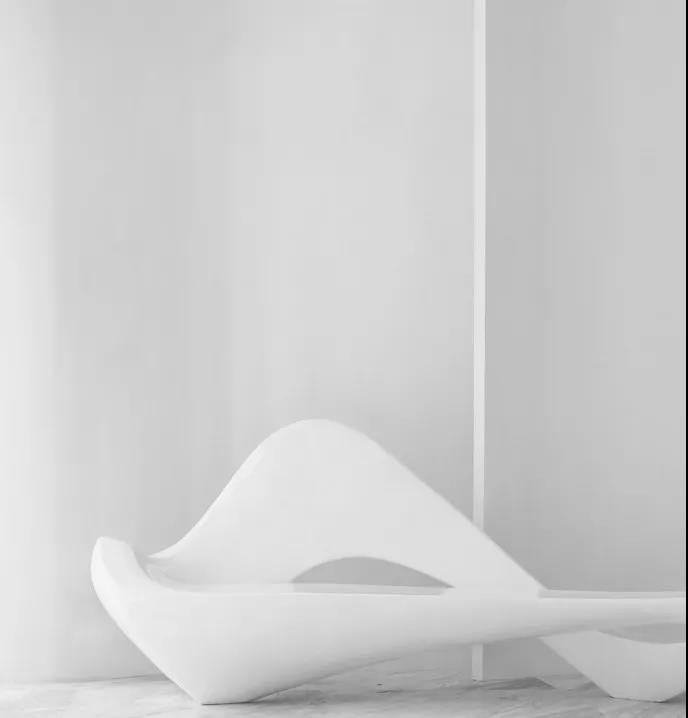 设计不仅是一项技能,还是对事物敏锐的洞察力和细腻的感知力。
Design is not only a skill, but also a keen insight and exquisite perception of things.
·
Design Concept
[ 前言 ]
一个门把手在未产生之前,抓握的动作已经在那里了。一段楼梯未产生之前,人上升和下降的运动趋势就已经在那里了。当代居住生活方式正在发生翻天覆地的变化,而承载我们容器 — 家也随着生活的方式的改变而呈现出多姿多彩的形态。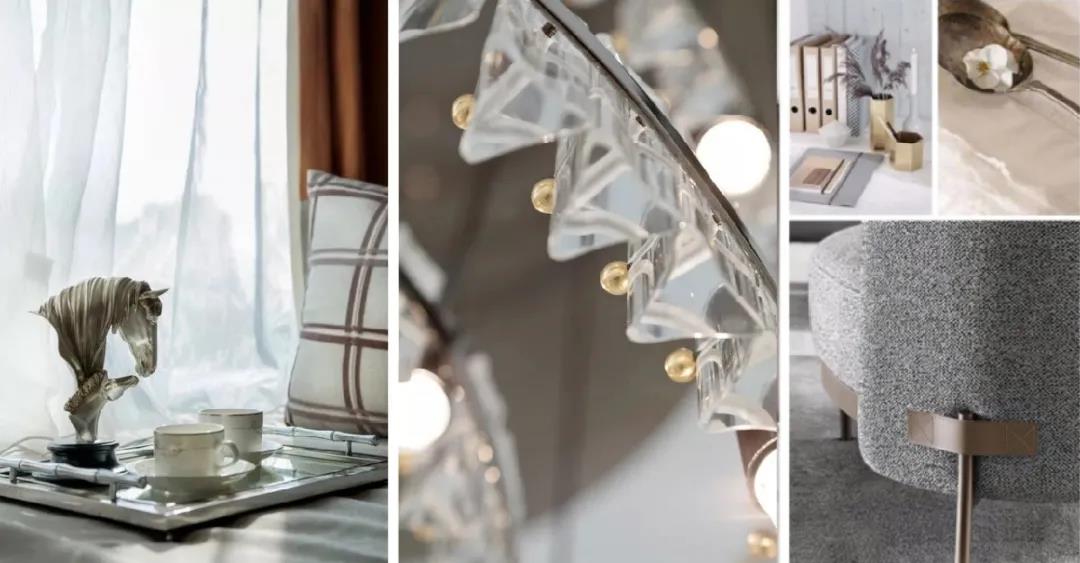 The grip of a doorknob is already there before it is created. The upward and downward movement of man is there before a flight of stairs is created. Contemporary living lifestyle is undergoing earth-shaking changes, and carrying our container - home also presents a colorful form with the change of the way of life.
·
The Project Address
[ 项目地址 ]
项目谦逊地坐落在其风景优美的别墅群中。该房屋是为一个充满活力的家庭而设计的,其中包含全套程序,房屋具有私密性和宁静性,掩盖了一切。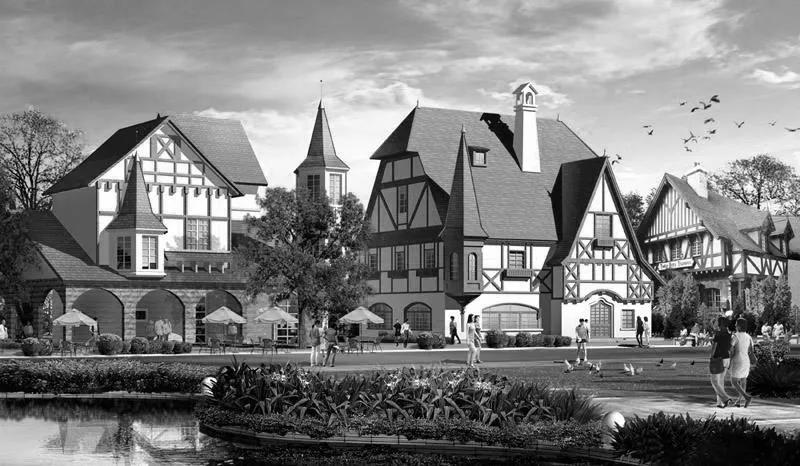 The project is modestly housed in its scenic villas. Designed for a vibrant family with a full suite of procedures, the house has a privacy and serenity that obscures everything.
·
The Material Selection
[ 材质选择 ]
材质的选取上,设计师借助金属、玻璃、木材、布艺等材料,赋予其材质本身更丰富的层次,将我们的感知进行升华,营造出适合现代人生活的空间意境。

In the selection of material, the designer endows the material itself with more rich layers with the help of metal, glass, wood, cloth and other materials to sublimate our perception and create a space artistic conception suitable for modern life.
·
Effect Of Rendering
[ 效果呈现 ]
· 一层空间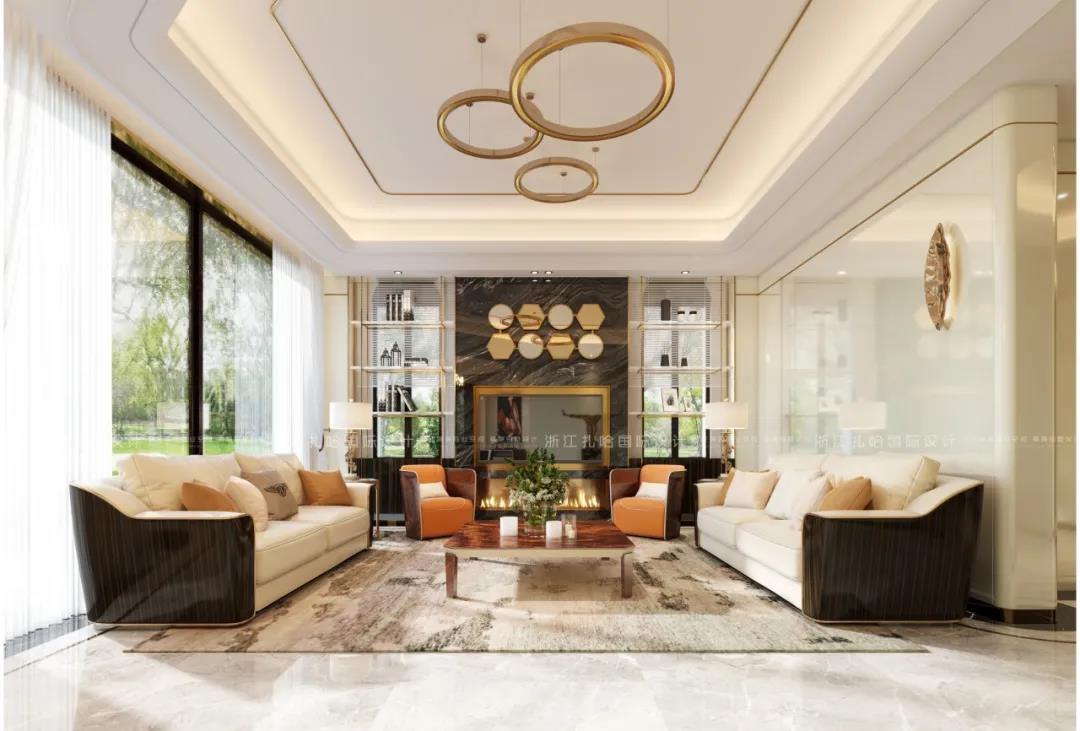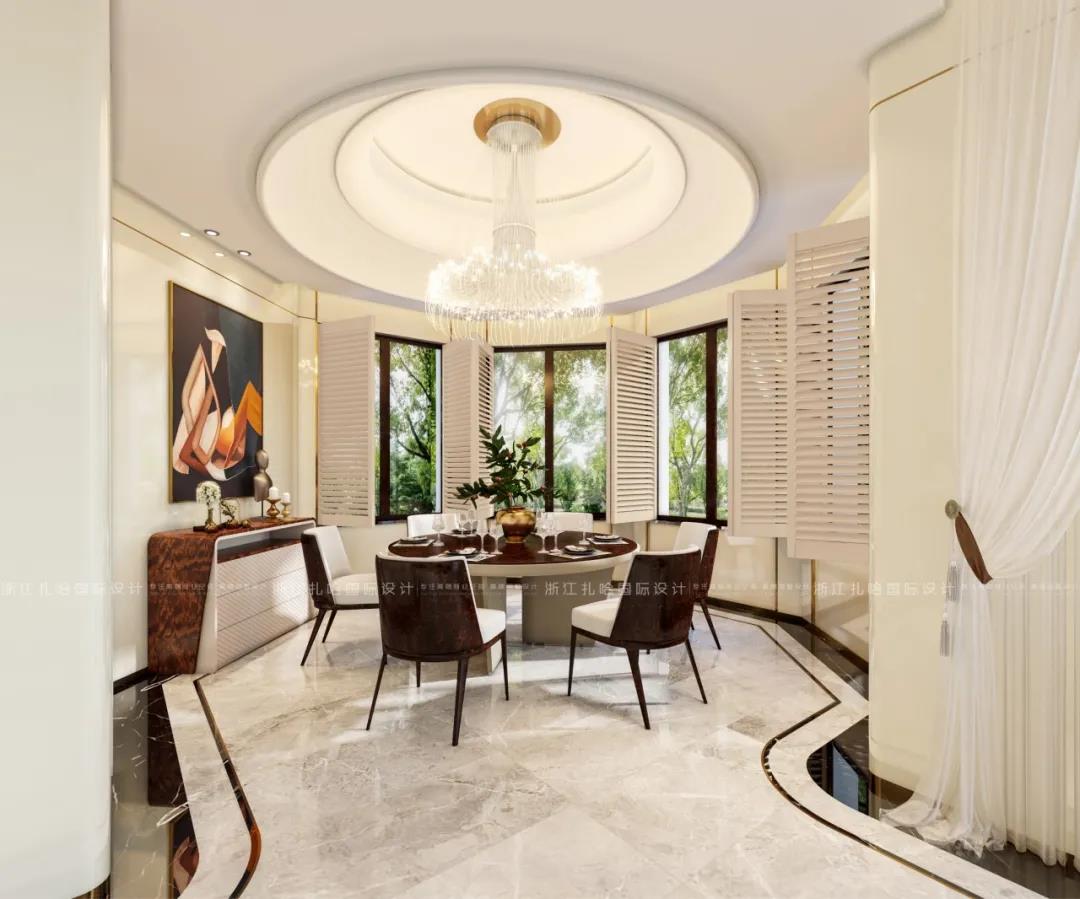 空间必须被体验,场域的美感往往会消散在生活的琐碎中,而有趣的空间转换,让身体在其中的游走,让身体与内心都愉悦起来,唤醒自我对世界的好奇心。
The space must be experienced. The beauty of the field will often dissipate in the triviality of life, while the interesting space transformation will let the body wander in it, make both the body and the heart happy, and awaken my curiosity about the world.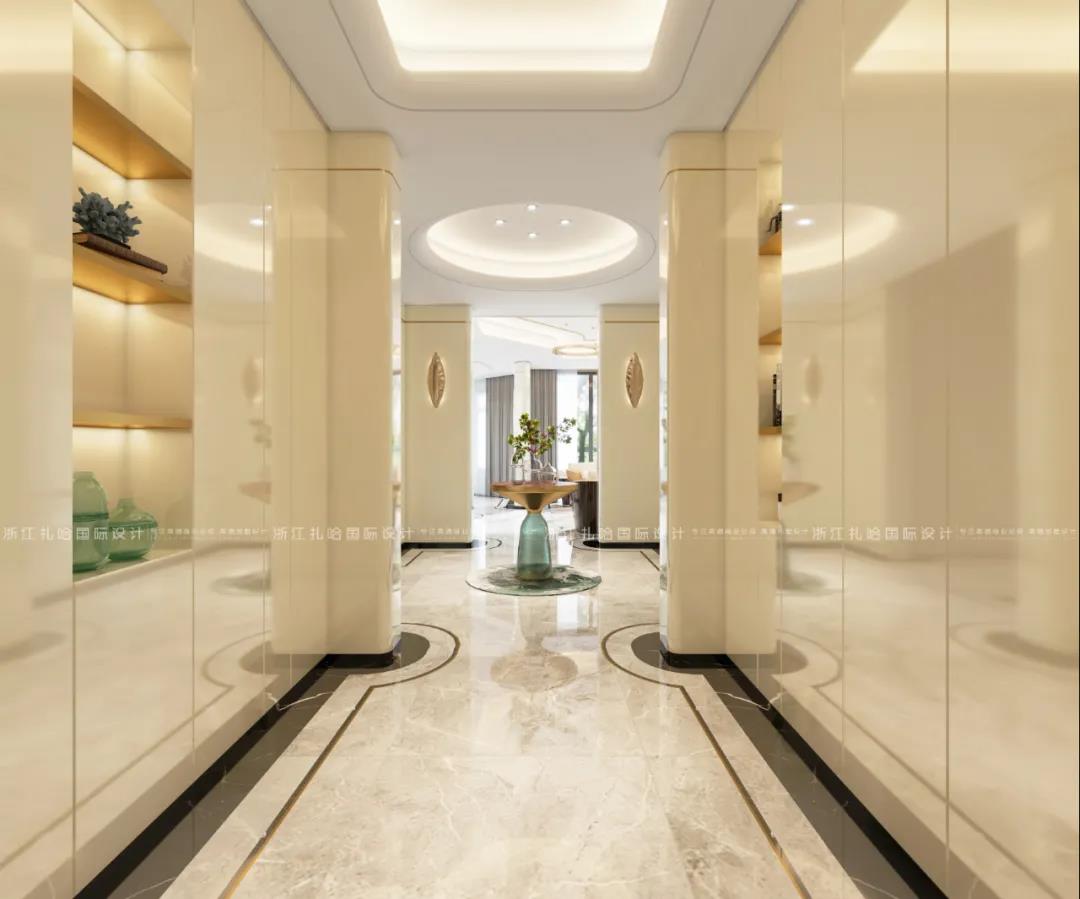 · 过道
丰富多彩的生活如何在家里自然的发生需要对空间凝结的归纳。不需要刻意去做注释。反而是简单和平能呈现出本质的灵魂。
The natural occurrence of colorful life in the home requires the induction of space condensation. There is no need to annotate. It is the simple peace that reveals the essence of the soul.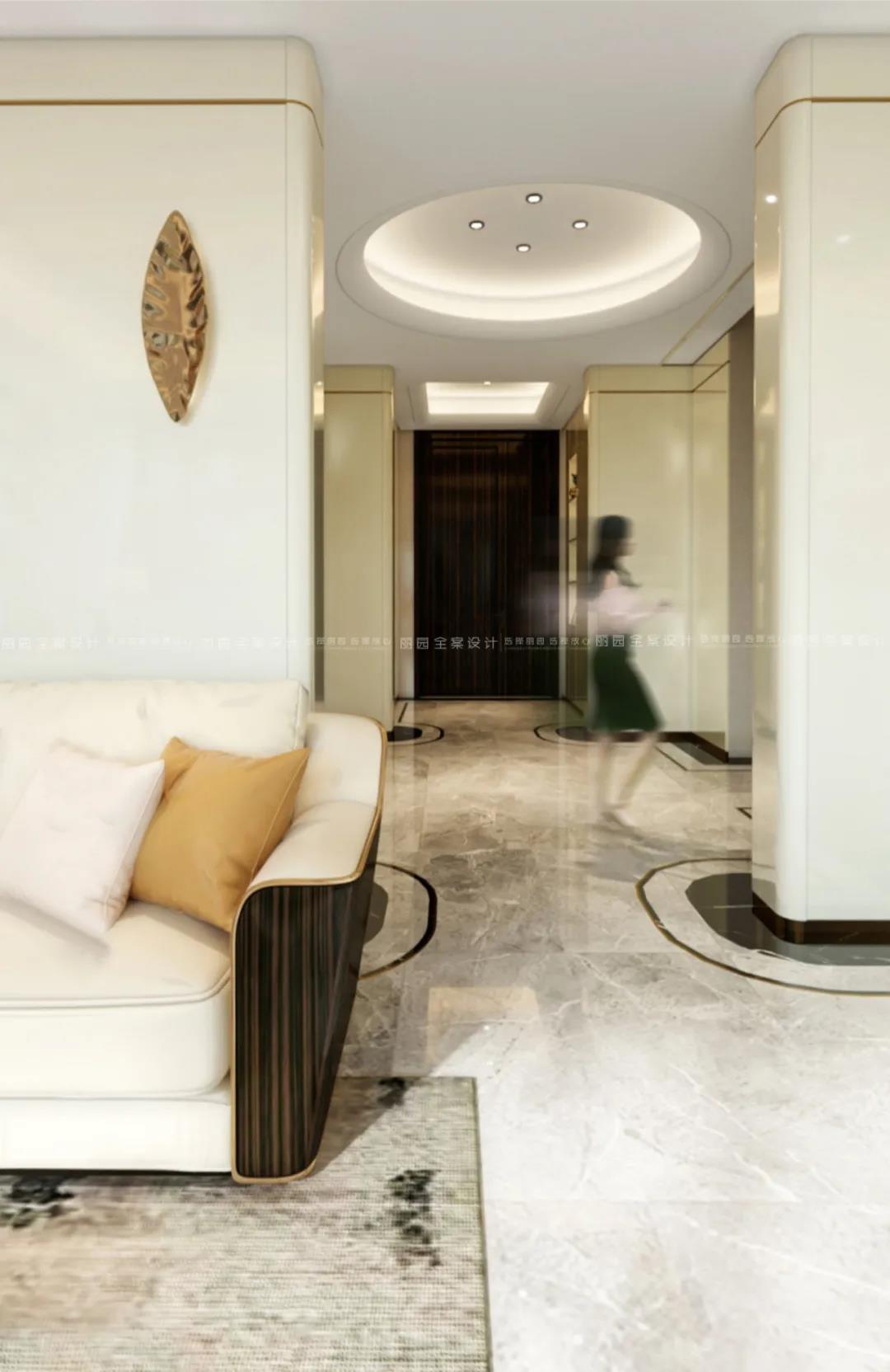 · 二层空间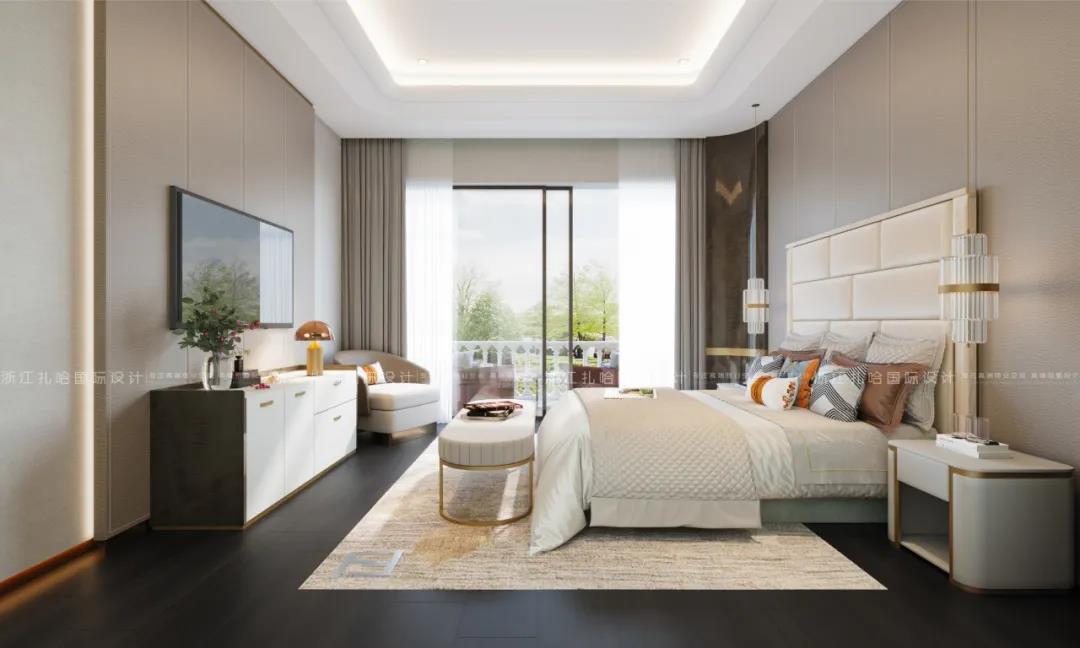 在设计上着力于表现空间场景化与故事性,因为不同的空间场景下所呈现出来的功能定位与情绪是截然不同的,设计家的场景更多强调的是个人的生活习性与个性。
The design focuses on the performance of space scenization and story, because the functional orientation and emotion presented in different space scenes are completely different, the scene of the designer emphasizes more on the life habits and personality of the individual.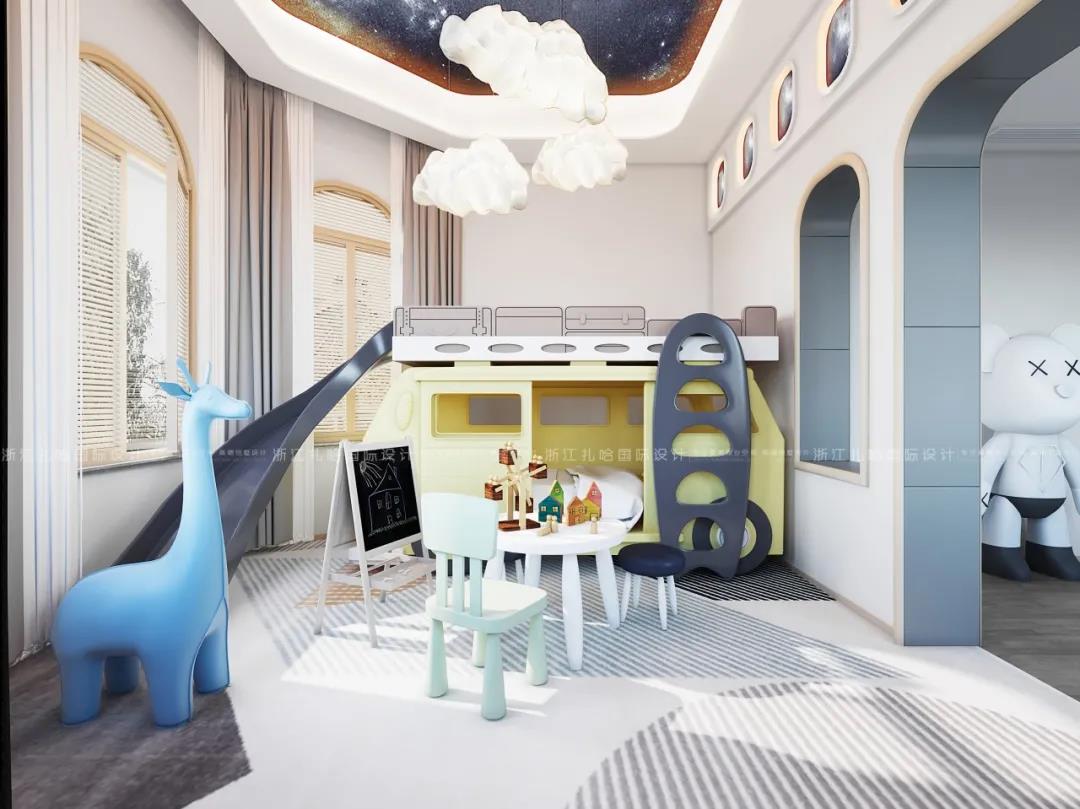 生活的一切都朝着舒适的方向描绘,让空间从生命的律动与四时的流转中舒展跃动,安放沉浮于世的疲乏,唤醒更深层次的觉知。
Everything in life is depicted in the direction of comfort, allowing the space to stretch and leap from the rhythm of life and the circulation of the four hours, placing fatigue drifting in the world, and awakening deeper awareness.
· 地下室空间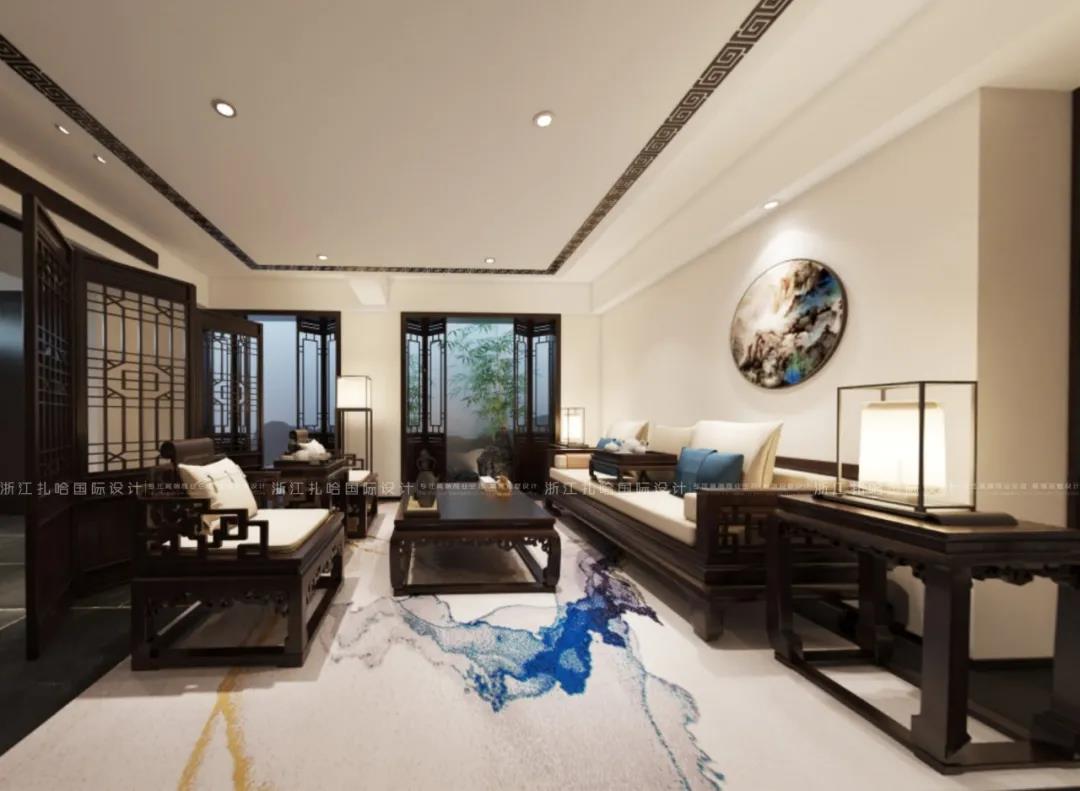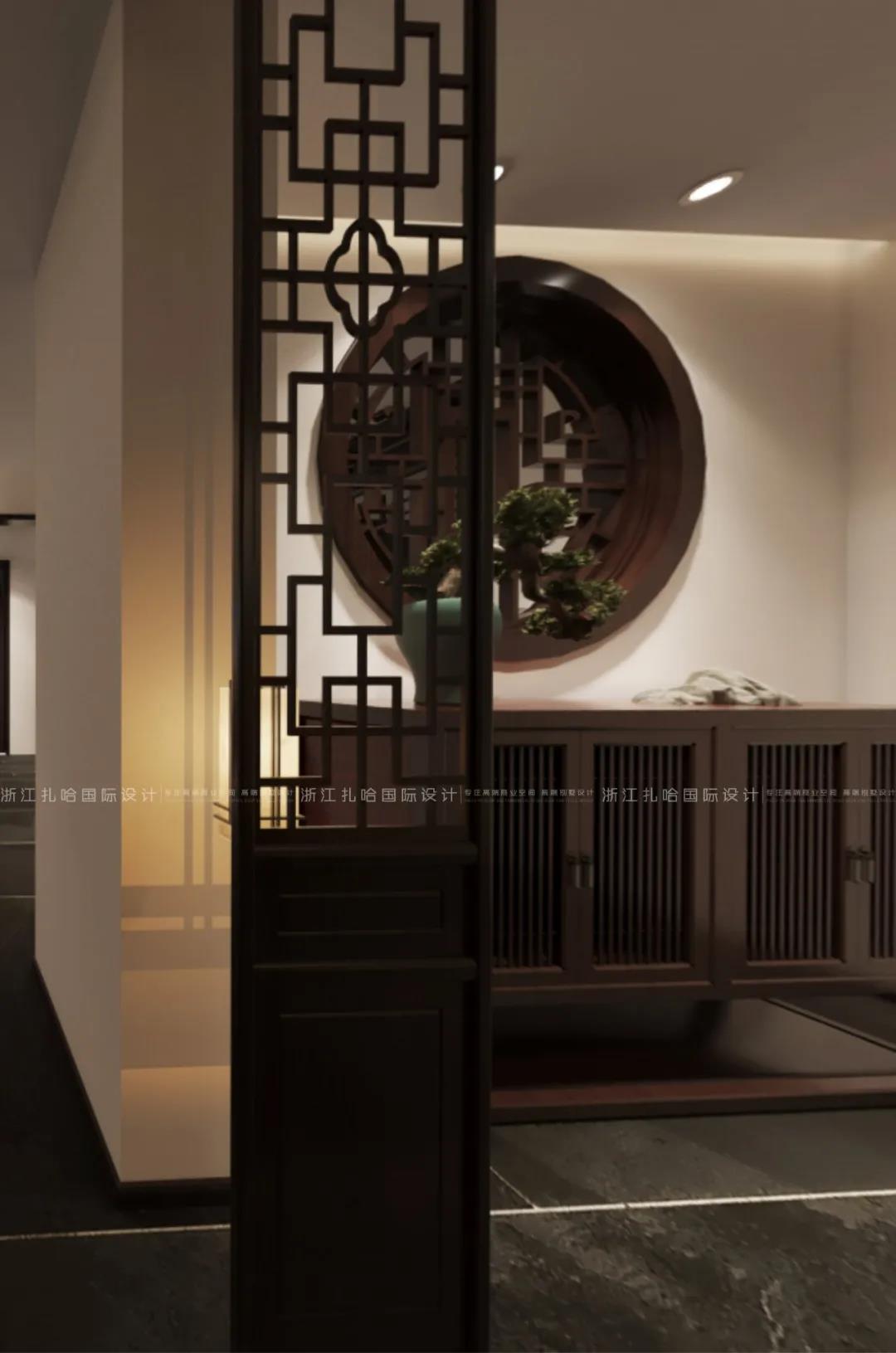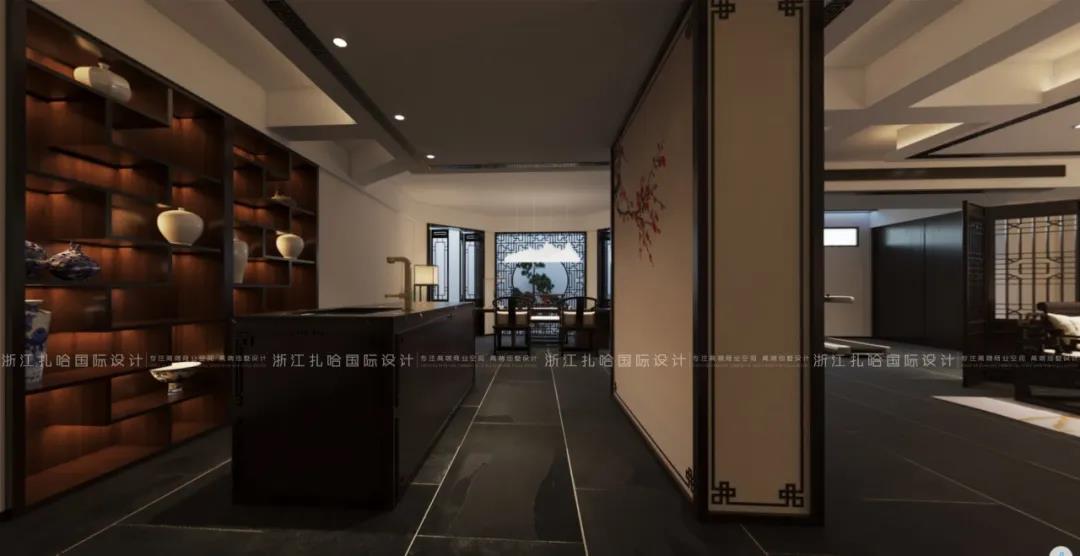 地下室空间和其他空间的设计也不拘于单纯格调的限制,更是尊重居者的生活习惯和功能需求,同时兼具实用、闲适、艺术、雅致于多种空间体验和格调的勾勒与呈现。
The design of basement space and other Spaces is not limited by the simple style, but also respects the living habits and functional requirements of the residents. At the same time, it is practical, leisurely, artistic, elegant in a variety of space experience and style outline and presentation.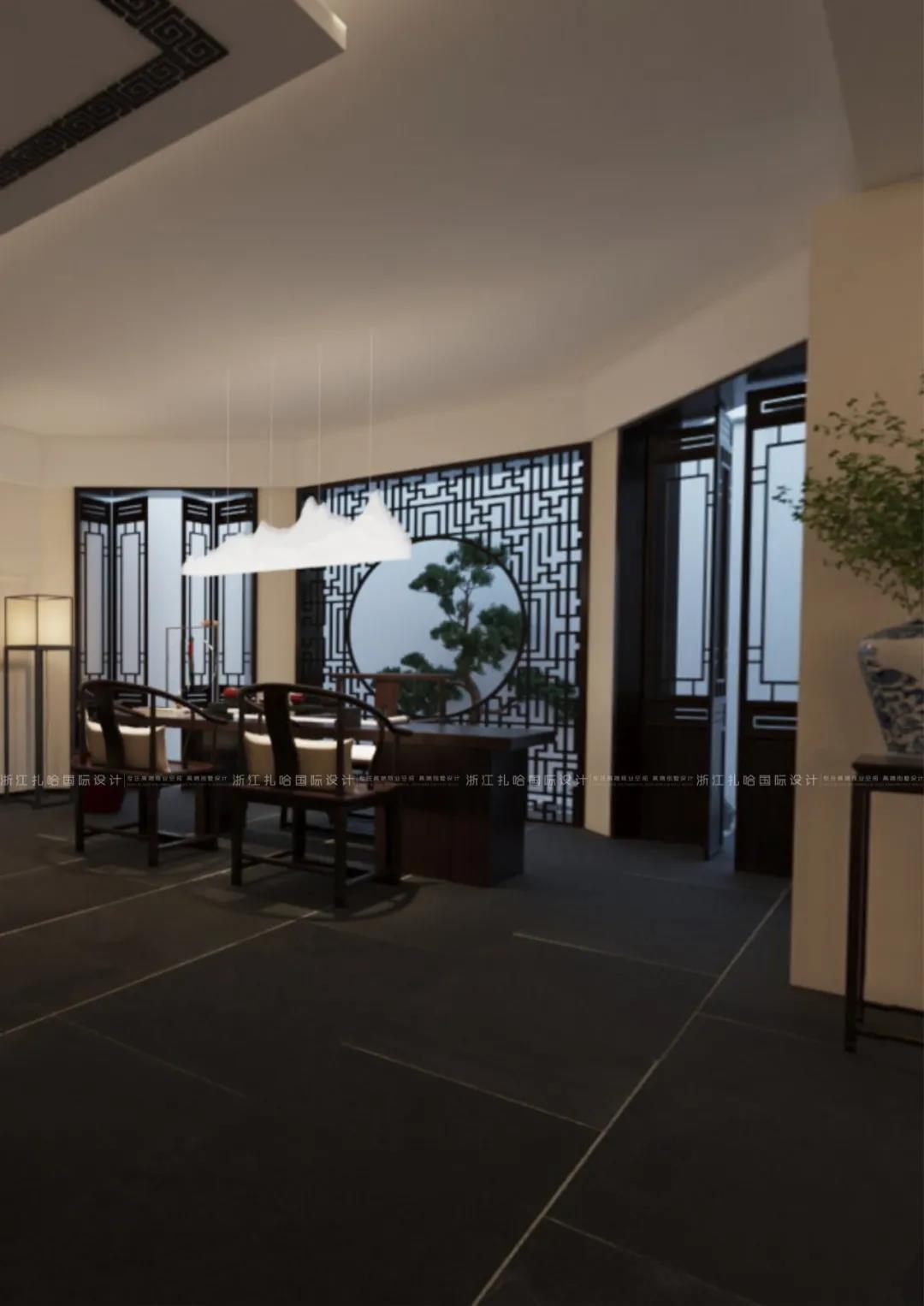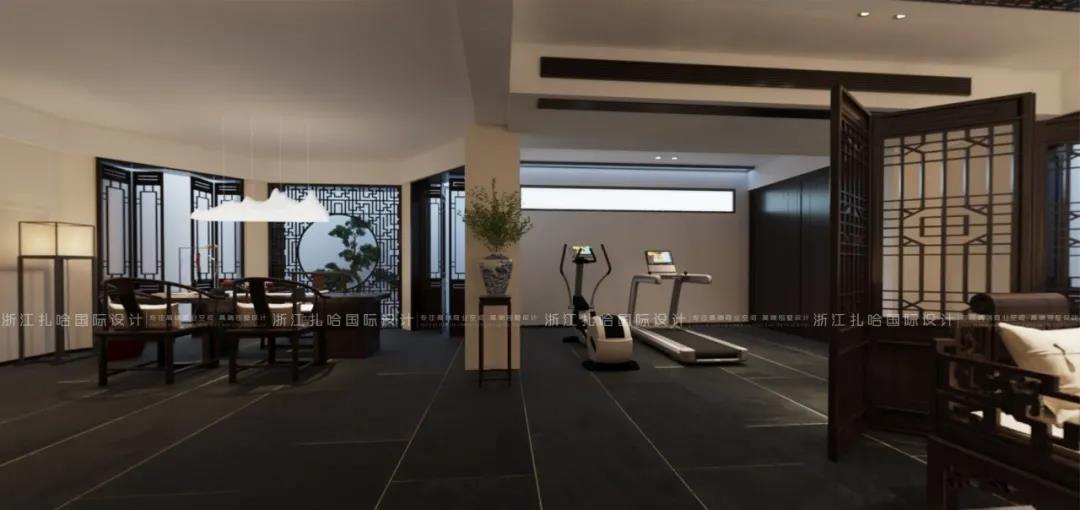 现代新中式美学里图形的含蓄和韵味被设计师完美诠释,方圆变化之间,隐现生活的温度,碰撞出富有人文气息且极具现代品质感的诗意禅韵。
The implication and charm of the graphics in the modern New Chinese aesthetics are perfectly interpreted by the designer. The temperature of life is hidden between the changes of the circumference, and the poetic Zen charm full of humanistic atmosphere and modern quality is collided.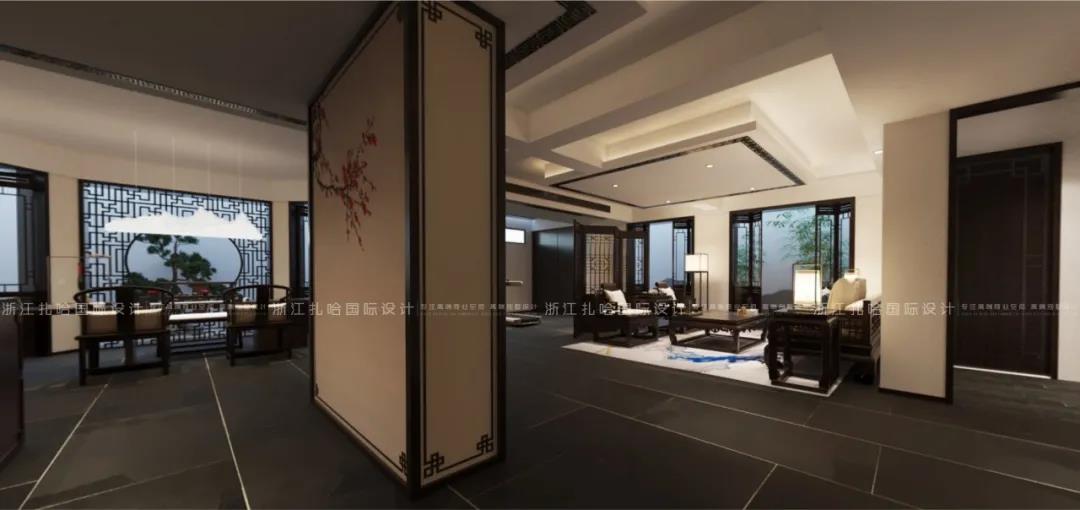 平面向度的空间,以线和面拉开空间气场分割茶室、会客厅、健身区,展现与时俱进的东方韵致,自然拙朴的气质不经意间流露。
The space of plane dimension separates the space air field of teahouse, meeting room and fitness area with line and plane, showing the Oriental charm of keeping pace with The Times and revealing the natural and humble temperament inadvertently.
·
Landscape Design
[ 园林设计 ]
设计师想要呈现的园林规划是浑然天成的,旷野原石、、如茵草地、亭亭绿植,所有的元素自然且朴素,不造作,不张扬,自由而富有韵律,不紧不慢地传递着人居美学的韵味。
The landscape planning that the designer wants to present is like nature, plain rocks in the wilderness, grass in the grass, green plants in the pavilion, all the elements are natural and simple, not artificial, not publicity, free and full of rhythm, not slow to convey the charm of human living aesthetics.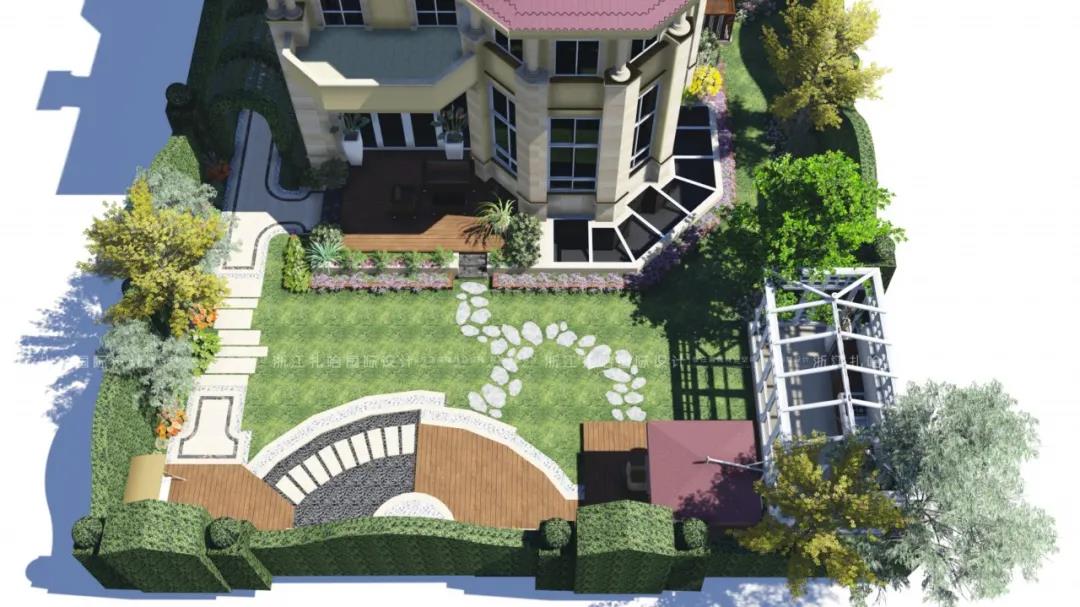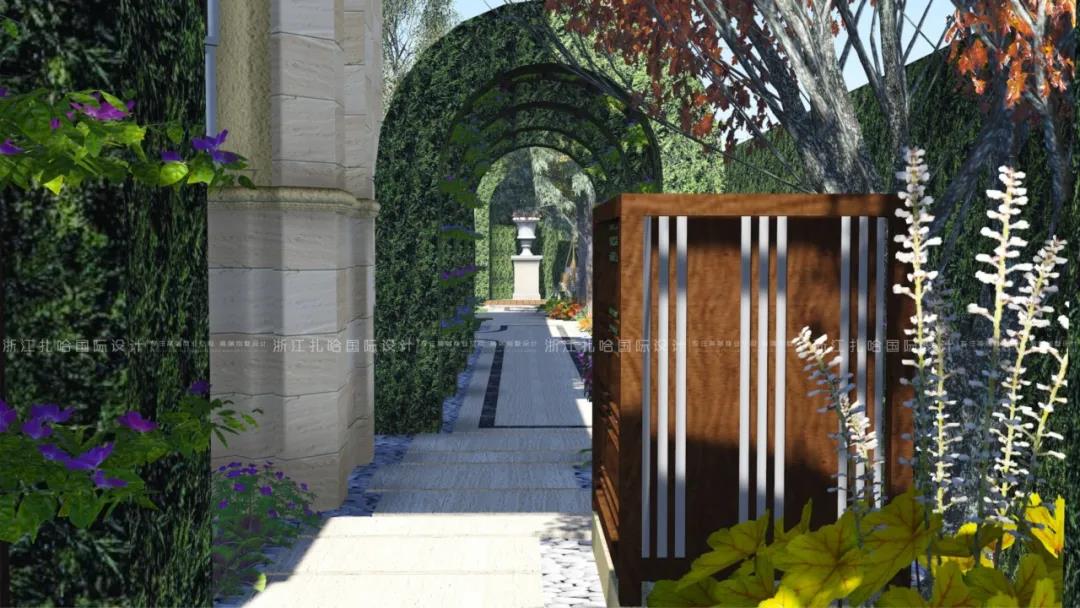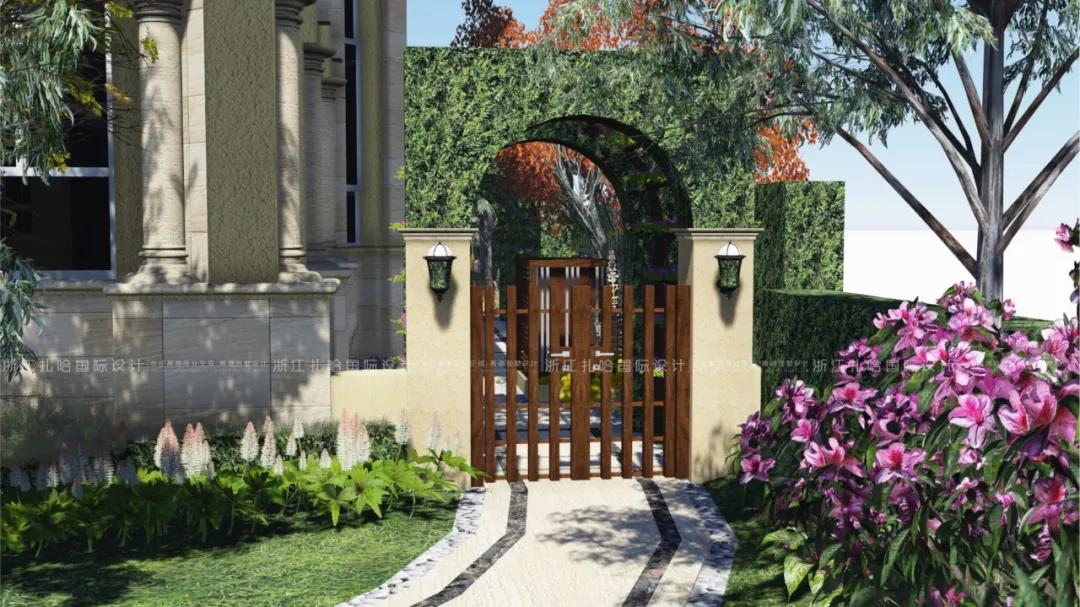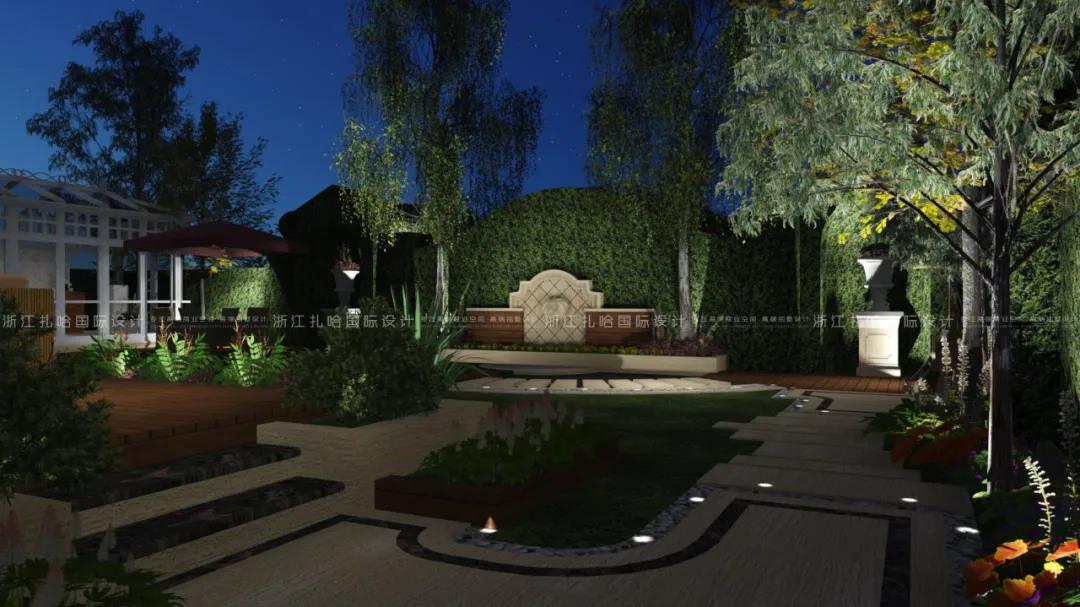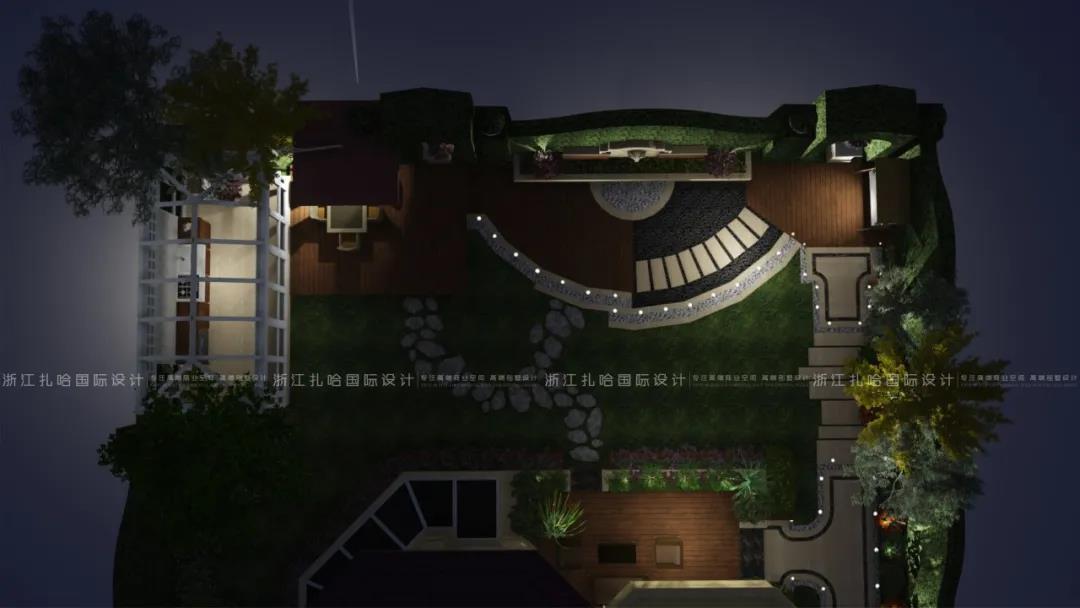 ·
Layout
[ 平面布置 ]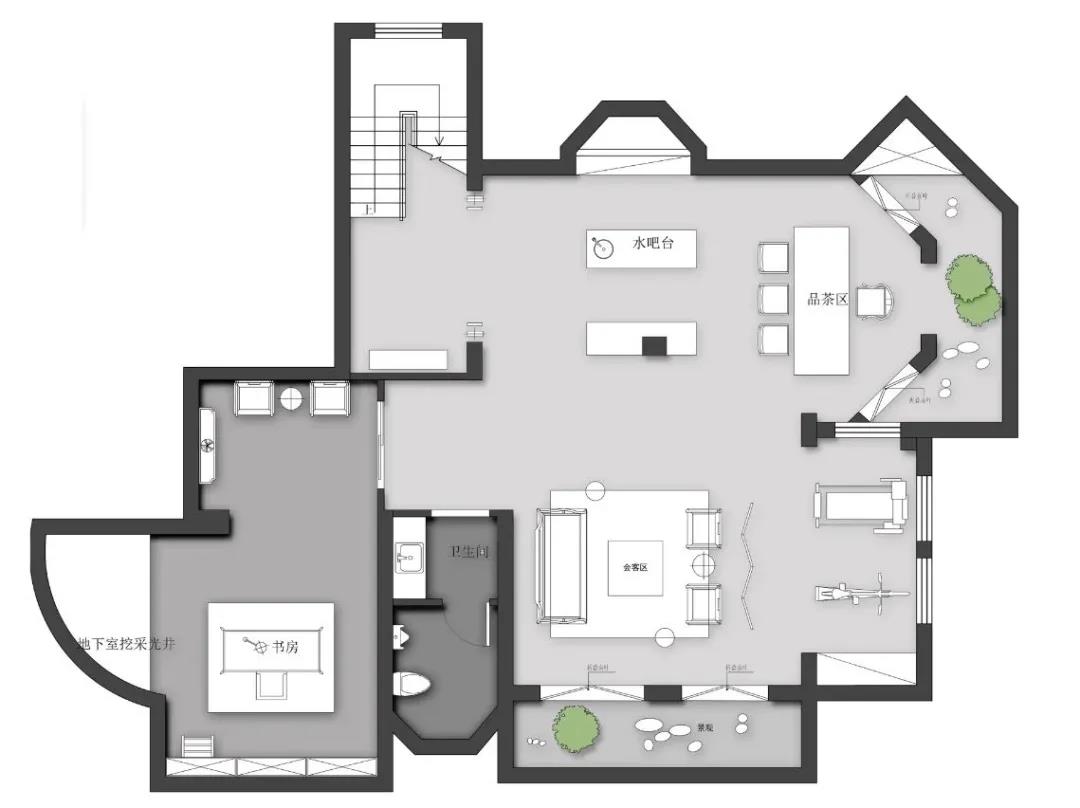 地下室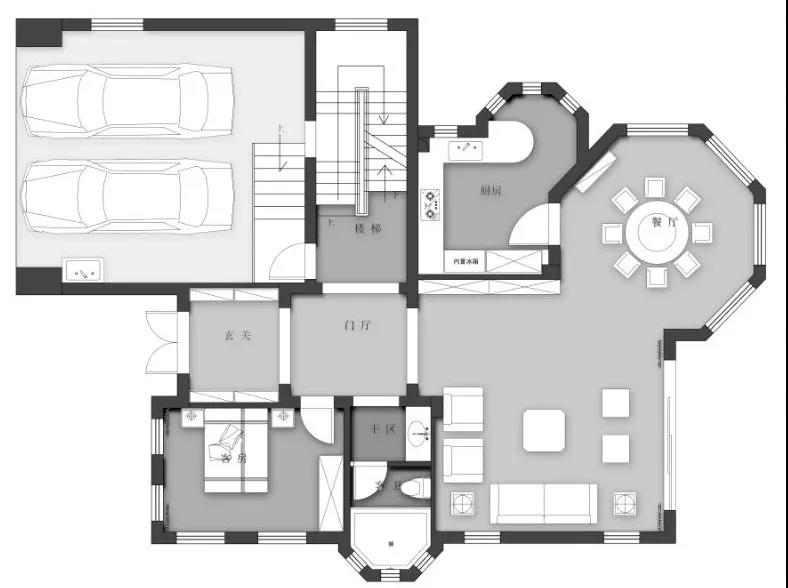 一层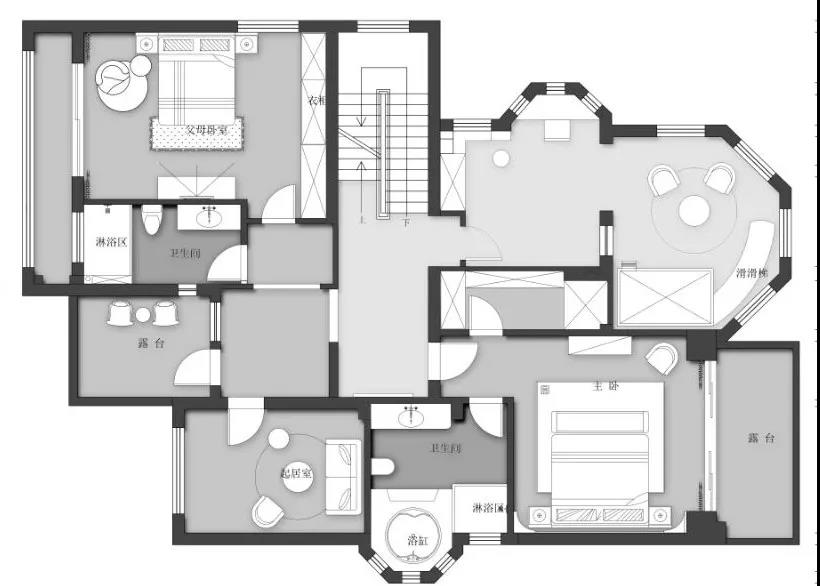 二层
·
Project Information
[ 项目信息 ]
项目名称 / 太阳城
Project name/Sun City
项目地址 / 中国.台州
Project address/Taizhou, China
项目类型 / 住宅空间 / 别墅
Project type/Residential space/villa
主创及设计团队 / 浙江扎哈国际设计团队
Creative and design team/Zhejiang Zaha International design
主创设计 / 郑随印 何贤曹
Chief designer/Zheng Sui-yin He Xian Cao
深化设计 / 何贤曹 陈小豪
Deepening the Design/He Xian Cao Chen Xiao-hao
项目施工 / 浙江扎哈国际设计
Project Construction/Zhejiang Zaha International Design